PLEASE NOTE OUR KITCHEN & SHOP ARE CURRENTLY CLOSED AS WE TAKE OUR WINTER BREAK. WE SHOULD BE RE-OPEN IN FEBRUARY 2020.
Welcome to The Pudding Shop & Kitchen Café - we are open each week from Wednesday to Friday 10.00am to 4.00pm
Based in the the lovely town of Upton upon Severn in Worcestershire. Our range of traditional steamed pudding's has been growing over the years.
Why not come along to our working kitchen for a unique experience to enjoy one of our many puddings either sweet or savoury! Its all about puddings, so choose either an old traditional such as Suet Spotted Dick, Treacle Pud or Gorgeous Ginger... or maybe one of our different flavours such as Sea Salted Caramel or Banoffee Steamed Pudding.
We also serve our traditional SUET STEAK & KIDNEY PUD - delicious just with peas and gravy!
Our menu is simple …. just the puds we make sweet or savoury to enjoy in their simplest form.
All of our product are available to eat in or takeaway.
Dates and details of our Christmas Pudding Workshops for 2020 will be available in the new year.
.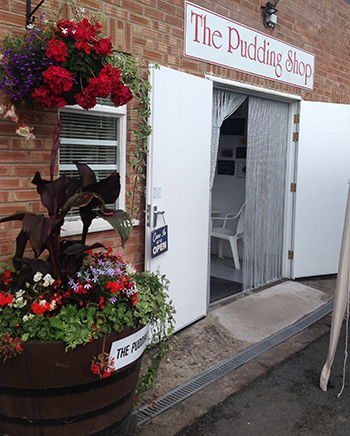 Made in Worcestershire with love....
Don, Dorothy & Justine
NB if you are travelling specially to visit us please give us a quick call to check we haven't had to pop on a delivery, or that we have the puds that day that you would like. Some days we sell out very quickly.